From Lumberjills to Wooden Wonders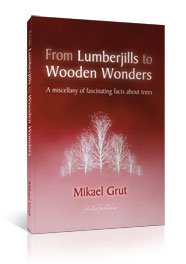 Subtitle: A miscellany of fascinating facts about trees.
Summary: An offbeat personal selection of more than 500 short A-to-Z entries about facts which are connected on the one hand to trees, forests or wood, and on the other hand to history, medicine, warfare, religion, legends, anthropology, climate change, science, law, administration, recreation, language, economics, politics, geography, communications, conservation, wildlife, and culture in the widest sense of that word. It includes an extensive bibliography, and a preface by Professor Jeffery Burley, CBE, Director-emeritus of the Oxford Forestry Institute,.
The book was written for entertainment.
Size and binding: 119 pages, paperback, 15.5 x 21 cm.
Publisher, year, ISBN, price: Fineleaf Editions, 2012, ISBN 978-1-907741-10-4, (Out of Print)
(Right Click & "Save As" to download The Book)
The book's blog: www.woodenwonders.info.
Download preface (PDF) Read preface